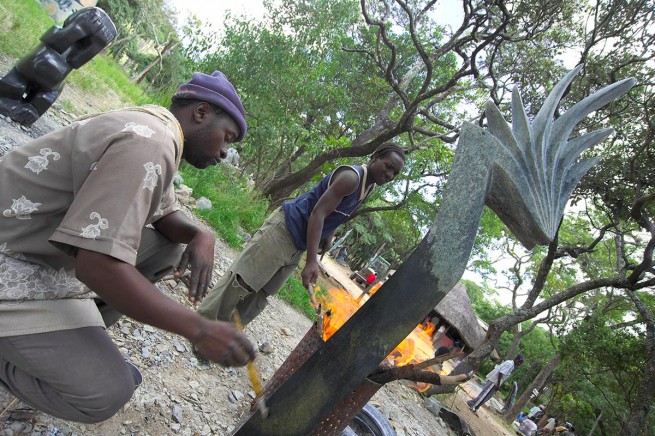 The color of the finely worked or polished serpentine is light gray. Areas that are dark, rich in color and gloss, are treated with wax. Sculptors warmed sculptures directly by the open fire before waxing them. The surface of most sculptures is porous and deep wax soaks to hot stone. Sculptors polish-over then the cooled wax with a clean cloth to achieve a high gloss.
Statues in the interior

Statues in the interiors do not require any special care. Dust is best wiped with a soft cloth or duster. Be careful, a polished surface can be scratched sometimes even with a ring.
Sculptures in the gardens

Not all sculpture is in a European climate suitable for placing in the garden during the frost period of time. Especially brown serpentine can absorb moisture that may freeze in winter and it can disrupt the sculpture. Also if moisture frosts in any cracks of the stone, it can damage the sculpture. Before the frost period it is therefore appropriate to protect sculptures in the gardens with, for example, shrink-wrapping.
Wax exposed to rain gets dull after some period or it can wash away completely after a long period. Approximately once every two years it is therefore appropriate to renew the wax and to polish the surface of the sculptures in places where the luster has been lost.
If you are interested in professional maintenance of your sculptures, please contact us. Waxing and repairs of surface damage sculptures can be done directly in your garden. Before waxing, the surface of sculptures must be heated with a heat gun. For this purpose we need an electricity connection within a distance of about 20 meters from the sculpture. Smaller sculptures can be collected and waxed (or any repairs made) in our workshop.